Quick Summary: We selected the Piscifun Fishing Tackle Storage Bag Outdoor Shoulder Backpack as the top fishing backpack. Its nylon construction keeps all your gear safe and resists water. It has two straps that you can remove and switch. They are both adjustable to make them as long as you need for your comfort. This bag is a sling, backpack, or tackle bag. The bag is completely ergonomic for your maximum comfort.
Imagine that you are on a fishing trip, and you finally see the fish of a lifetime carelessly swimming nearby. As you frantically search for the perfect lure to secure the most glorious catch and look back and forth from the fish to your tackle box, the fish swims away.
That is undoubtedly one of the most frustrating feelings in the world, and at that moment, you would probably want to throw that tackle box as far as you can.
But you can put these days behind you.There is a better and simpler way of carrying and organizing your fishing gear – with the best fishing backpacks, of course.
Tackle boxes are things of the past because the fishing backpacks are designed to hold your tackle, tools, and gear while your hands are completely free. Fishing backpacks are equipped with extra pockets and compartments, which offer a convenient way to organize your equipment.
With a fishing backpack, you will no longer bump into every tree or rock in your way, and you won't have trouble reaching difficult fishing spots. So keep reading and find out what are the best fishing backpacks that will make your fishing trips more enjoyable.
Quick Navigation
---
10 Best Fishing Backpacks Comparison
| | | |
| --- | --- | --- |
| | Equipped with a strong and sturdy KAM buckle and SBS zippers-this bag will ensure that you have a good fishing day. Its 1000D nylon fabric design makes it durable and also water-resistant. | Read Our Review |
| | Secured with three adjustable and detachable straps, this 1000D water-resistant fishing bag is a perfect companion to store and carry lures, pliers, wallet, keys, and countless accessories. | Read Our Review |
| | This 20inch tall and 17inch wide bag is big enough to provide ample space for your fishing tools and accessories. Made from lightweight polyester, these bags have high utility as they are waterproof and corrosion-resistant. | Read Our Review |
| | Have safe adventures with the Piscifun Cooler backpack. The 4 layered back design of this bag along with a thick PEVA hot pressed liner keeps your food and drinks fresh for as long as 18 hours. | Read Our Review |
| | After going through 86 sewing procedures, this high-quality bag came into existence and became famous for its 20% enhanced water resistance and toughness. With the addition of SBS zippers, this bag has 11 independent storage pockets and 18 smaller pockets. | Read Our Review |
| | This compact, all in one fishing backpack comes with a LED light system to give you the convenience for fishing from dusk till dawn. The foldable front pocket cover easily turns into a table and working surface. | Read Our Review |
| | Designed with big and spacious pockets, this backpack is the ideal equipment to have for carrying big and small accessories. Its extra-long shoulder straps make it easy and comfortable to wear over jackets. | Read Our Review |
| | With a textured fabric exterior and thick padded shoulder straps, this backpack is a must-have for long adventures. Its multiple storage pockets with sturdy zipper closures will keep your belongings safe and protected. | Read Our Review |
| | This backpack is almost weightless and extremely comfortable to wear because of its padded shoulder straps with sternum strap. Its clear internal pocket is water-resistant so that all your material stays dry and safe. | Read Our Review |
| | This heavy-duty, high-quality bag is famous for providing ample storage space through multiple compartments and pockets. Made with 1000d nylon fabrics, these bags will serve you in every way by being your handbag, backpack, and shoulder bag. | Read Our Review |
---
Reviews Of Top 10 Fishing Backpacks
Here's a list of the Top backpacks for fishing trips we found on the market:
Best Overal
What You Will Love: The Piscifun Fishing Tackle Storage Bag Outdoor Shoulder Backpack resists abrasions and is indestructible.
The Piscifun Fishing Tackle Storage Bag Outdoor Shoulder Backpack is the best tackle backpack with rod holder because it is made with nylon that resists water and is safe equipment.
The two straps are interchangeable and detachable. Most noteworthy is the center strap extends to 51.2 inches while the other strap extends to 36.2 inches.
Most noteworthy is this bag is worn as a sling backpack, handbag, or fishing tackle bag. This bag has two belts to hold fly fishing rods. Another feature is the design of this bag is completely ergonomic allowing you to remain completely comfortable.
The tackle bag is 11.8 inches by 8.3 inches by 3.9 inches. This bag has many pockets on the inside and outside of the bag, which makes this bag perfect to carry all your extra equipments.
Pros:
This bag is fashionable, yet durable
Material is a breathable mesh
You can store tackle trays at the bottom
Cons:
Material is not waterproof
Seams tear easily
---
Best Budget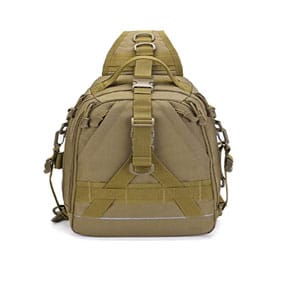 What You Will Love: The GZTLJ Fishing Tackle Storage Bag Outdoor Shoulder Backpack is lightweight at less than two pounds.
Whoever needs a fishing backpack and doesn't have the budget to buy a high end product can choose this one.
The GZTLJ Fishing Tackle Storage Bag Outdoor Shoulder Backpack is one of the best backpacks for fishing gear because the straps are wider and longer with shoulder pads for more comfort.
You can easily use it as a backpack or shoulder bag. Another feature is the bag's material is the highest quality nylon making it resistant to water. It is durable and offers a lot of storage room.
Most noteworthy is the size of the bag at 14 inches by 8.2 inches by 6 inches. Finally, this bag contains three large storage area and a pocket on the side.
Pros:
Holds all your items
Long lasting quality
Cons:
Does not have many reviews
---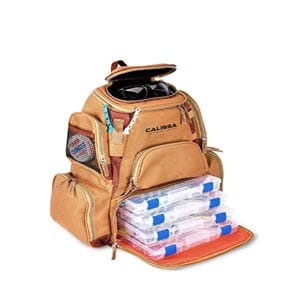 What You Will Love: The X Large Blackstar Fishing Backpack resists corrosion from saltwater and regular water.
The X Large Blackstar Fishing Backpack is the best fishing backpack for beginners. It has 2 extra fishing rood kit space, which is very helpful.
Another feature is that this bag is lightweight due to its polyester that is also breathable. The bag has feet under it that keeps it dry even when it is sitting in ice.
There is a trapdoor on the front of the bag that holds four containers, which are included. The bag is an incredibly large size, which is 20 inches tall by 17 inches wide by 9 inches deep. This includes a sunglass case that has a hard shell to protect your sunglasses.
Pros:
Twelve-month guarantee
Tackle trays can be stored at the bottom
Made in the USA
Cons:
Not the best quality
Make sure the bag is an original
---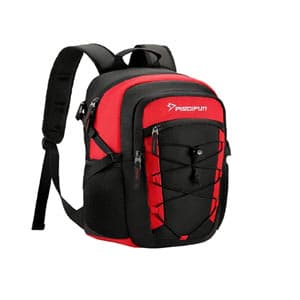 What You Will Love: The Piscifun Insulated Cooler Backpack, Leakproof Lightweight Cooler Bag has heat welded technology the ensures the seam at the zipper does not leak.
The Piscifun Insulated Cooler Backpack, Leakproof Lightweight Cooler Bag is the best fishing tackle backpack because the nylon material increases while the weight decreases.
At the same time, the side straps have compression that adds to the durability and minimizes the zipper pressure. The Piscifun is the best bag for outdoor recreation because the liner is soft making it easy to clean.
Most noteworthy is the bag stays cold for 18 hours and the four layers in the back provide thermal insulation. The liner is PEVA and keeps your drinks and food cold below 50 degrees, providing you use ice packs. The bag is more than enough to hold all necessary fishing gears in an ice fishing shelter.
The cooler bag has a bottle opener that is built into the bag and compartments that keep your wet and dry clothes separate.
Pros:
Can accommodate a 12 pack of cans
Adjustable chest straps
Cons:
Does not hold ice well
Zippers may break
---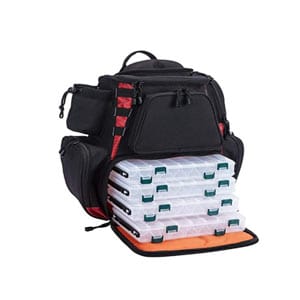 What You Will Love: The Piscifun Fishing Tackle Backpack with 4 Trays is an entire tackle bag that has 11 separate areas in the bag.
The Piscifun Fishing Tackle Backpack with 4 Trays is the best small fishing backpack because it has a tough superior design making it resistant to water.
The bag's construction is nylon with heavy duty buckles and zippers allowing for perfect opening and closing. Most noteworthy is the bag has 11 compartments that break down further into 18 spaces to hold all of your fishing equipment.
The center area of the bag has a removable clapboard. This bag measures 12.6 inches long by 7.9 inches wide by 17.7 inches high when you remove the clapboard.
The shoulder straps are padded and breathable ensuring the most comfortable for you. Finally, the bag's reflective strap keeps you safe because everyone can see you at night.
Pros:
One year warranty
Hard case for sunglasses
Cons:
Bait does not fit well
Plastic molding takes up a lot of space
---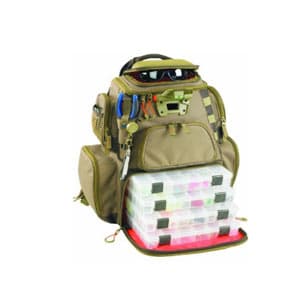 What You Will Love: The Common Leathercraft Wild River Tackle Tec has a light system that is LED allowing you to fish any time you want.
The Common Leathercraft Wild River Tackle Tec is the perfect tackle backpack for the fishing trip at any time with its LED lighting. The sunglass holder protects your glasses and ensures their safety.
This may not be the perfect bass fishing backpack but it works for just about everything else. Another feature is the holder for pliers that you can completely remove. It has a cover to protect it from the rain that you can use at any time.
Most noteworthy is the front flap that completely folds down providing you with a space to work. You can adjust the shoulder straps so they are the most comfortable for you. Pads on the bottom of the bag protect it from wear and tear.
Pros:
Four tackle trays storage compartment
Includes rain cover
Possibilities for organization are endless
Cons:
Poor customer service
More expensive
---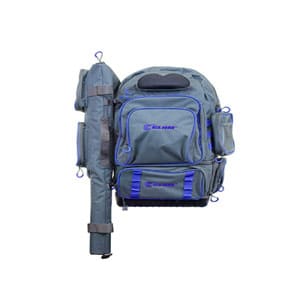 What You Will Love: The Clam Corporation Ultimate Ice Backpack has oversized pockets and holds a Velar Pro Pack.
The Clam Corporation Ultimate Ice Backpack is the best waterproof fishing trip backpack because all your equipment and rods are safe while hiking. This bag's straps are long enough that you can wear it over any jacket.
Another feature is the pockets are so large they can hold anything you carry with you. The middle section holds a pro pack. This bag holds two rods, but you can possibly fit more than two.
Pros:
Bottom section can separate from top portion
Bottom of the bag construction is PVC
Cons:
This bag is only water resistant, not waterproof
The seams are not taped
---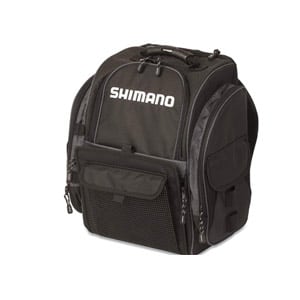 What You Will Love: The Shimano blackmoon fishing backpack comes with two Plano tackle boxes that can hold all your equipment.
The Shimano black moon fishing backpack is a great choice for hikers because it is built for those who walk to the area in which they fish.
This fishing bag has a construction that is heavy duty to take anything you bring its way. The fabric is textured to ensure it is durable and lasts you a long time.
The front opening zippers and side pockets allow for easy access with a ton of storage options. The straps for your shoulders give you maximum comfort while reducing the weight of the backpack so you do not get tired quickly. Most noteworthy are the rod holders that are mesh on either side.
Pros:
Well known Shimano quality
Tackle trays can be stored
Includes a rain bag
Cons:
Heavier than most fishing bags by this brand
Heavier than expected
---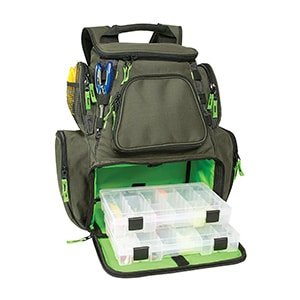 What You Will Love: Get ample storage space for your fishing tools and other accessories through the spacious, well-secured compartments and pockets of this bag. Not only is this bag water resistant from the outside, but its internal pockets are soft to touch and layered enough to save your material from getting wet.
Start your new adventure today knowing that you are safe and well taken care of by the Wild River Backpacks. This large, heavy-duty bag can be used for hiking, camping trip and is most ideal to be used for a long day by the sea.
Carrying this huge, 4.9pound bag is simple and easy. Its attached padded shoulder straps with sternum strap are designed to be adjustable and thus will fit perfectly for every size. The soft padding supporting these straps makes it stay stable on the body without making it loose or sloppy.
You can fold down the front pocket cover of this bag and it transforms into a smooth, handy work surface that you can be used for placing objects, organizing material, etc.
Thick and sturdy base pads have been added to the design of these fishing backpacks, as a result, water and moisture cannot seep into your material and thus they remain dry and well protected.
Pros:
Lightweight and easy to carry
Has multiple storage pockets
Includes rain cover
Water-resistant because of base pads
Cons:
The floor of the main compartment is weak
---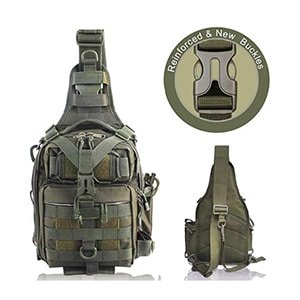 What You Will Love: Blisswill will keep you feeling light and energetic with its multiple features. The most practical benefit of this bag is that it works as a handbag, shoulder bag, and backpack. Moreover, the balanced division of pockets and compartments give you a significant storing place.
Produced with 1000D water-resistant, high-quality nylon fabrics and strengthened with buckles and straps, this fishing backpack is the most reliable item to have for adventures.
The diverse features of this fishing backpack enhance and increase its utility. You get three straps that you could utilize to adjust it according to your size and needs. Also, these straps can be easily removed or attached to the bag.
These bags are not only safe for you to use but they have been created with materials that are non-toxic and environmentally friendly so these bags contribute to your well-being in every way. Its compact and moderate size makes it super easy and light to carry.
This fishing backpack set will effectively safeguard all your equipment and essential items as it is equipped with full-length double zippers, buckles, and adjustable shoulder straps.
Pros:
Includes multiple storage pockets
Easy to adjust
Lightweight and simple to carry
Cons:
---
How to choose the Best Fishing Backpack?
There are many options available to you when looking for a fishing backpack. It can be overwhelming to determine which one is the best one for your needs right before fishing trip.
When you look for your next fishing backpack, be sure to consider all of these features listed below before you make your next purchase.
Brands
The brand of the fishing backpack you want is important in that some bags have a long reputation for quality. Some companies have been in the business for generations and are well known for creating quality merchandise.
You also want a fishing backpack that has a warranty. You want to purchase a bag from a company that believes in their products and guarantees it.
You also want a bag that has excellent customer service in the event that if something goes wrong with your fishing backpack, it can be fixed quickly and with little hassle.
Keep in mind that all brands may have a defect in workmanship occasionally and this is where quality customer service is the most beneficial to you.
Type
Make sure the bag you consider is the kind of fishing backpack you need and want. If you want to be able to sling the bag across your body, you must make sure that your fishing backpack can function in that way. If you want to carry it as a tackle bag, make sure the straps are detachable and interchangeable.
Weight
Not only should you consider the weight of the bag itself, but you also need to consider how heavy the bag is once you put all of your gear in it.
If your bag is already heavy before your stuff is in it, it is going to be exceptionally heavy once it is all in there. Make sure that you can carry the fishing backpack comfortably or you will not want to carry it at all.
Storage
Be sure that your next fishing backpack holds all the items you want to take with you. In addition, you want to make sure any compartments in the bag can hold all your gear.
If the compartments in the fishing backpack are too small and will not hold what you need, it may not be a good bag for you. Be sure to pay attention to the size of all the compartments.
Waterproofing
It is important that you understand that difference between waterproof and water resistant. A bag that is water-resistant does not sustain as much water as a bag that is waterproof.
Be sure to know which of the two you need when looking for your next fishing backpack. If you want a bag that you can completely submerge in water, then you need it to be waterproof.
Comfort
Comfort is important, especially if you hike to where you fish. You want a bag that you can carry on your shoulders for long distances. You want a fishing backpack that is not too heavy and fits on your back. if you have any issues with back pain; It is crucial to use a specialized bag for back pain.
Durability
You want a fishing backpack that is durable and can hold up to whatever abuse you give it. You want a bag that will not wear on the bottom every time you put it down. You want a fishing backpack that can zip and unzip as many times as you need it to do so.
Quality
You want a high quality bag that is not going to fall apart at the seams no matter how much you use it. You want your fishing bag to last you for a long time.
Reviews
You should always read what other people thought about the fishing backpack you want. While this should be a consideration, keep in mind that everyone looks for something a little different, so their needs may not be the exact same as your needs.
Price
When considering a fishing backpack, price should be a consideration, but not the only one. You always want to stay within your budget.
You should understand that the price does not always signify quality. Some expensive fishing tackle backpacks are not durable, while inexpensive ones may hold up the best.
---
Final Verdict: Best Fishing Backpacks
We have created for you a list of the top fishing backpacks. We looked for fishing tackle backpacks that can hold all of your gear with room to spare. We considered the weight of the backpack to ensure you can carry it around comfortably.
We made sure the shoulder straps are padded and adjustable. We looked for backpacks that provide the most protection from wet surfaces and rain. We did all the work for you and hope you enjoy what we believe are the top 10 fishing backpacks that meet our standard of fishing backpacks.
Related Articles: